Today, The Pokémon Company International unveiled "Pokémon: Art in all its forms", an art experience in partnership with shopping destination Val d'Europe, which will take place from October 16 to November 12, 2023
Following the resounding success of Pokémon: Art through the Ages in 2022 at the Trafford Centre in the UK, the free, open-access event, inspired by a treasure hunt, returns to France this time. For four weeks, visitors to Val d'Europe will be able to discover hidden works of art celebrating the 151 Pokémon that first appeared in the Kanto region, and which feature in Scarlet and Violet – 151 the latest expansion to the popular Pokémon Trading Card Game. The Pokémon artworks scattered throughout the mall are inspired by various artistic skills and styles, from stained glass to abstract art. Participants in this treasure hunt will receive a free activity booklet with which to explore the aisles of the Val d'Europe mall to flush out the ten hidden artworks and discover a secret code. Successful completion of the mission will win three limited-edition Pokémon posters, distributed in Val d'Europe's Auchan, Fnac and Micromania/Zing stores. Each store will offer a different poster [1]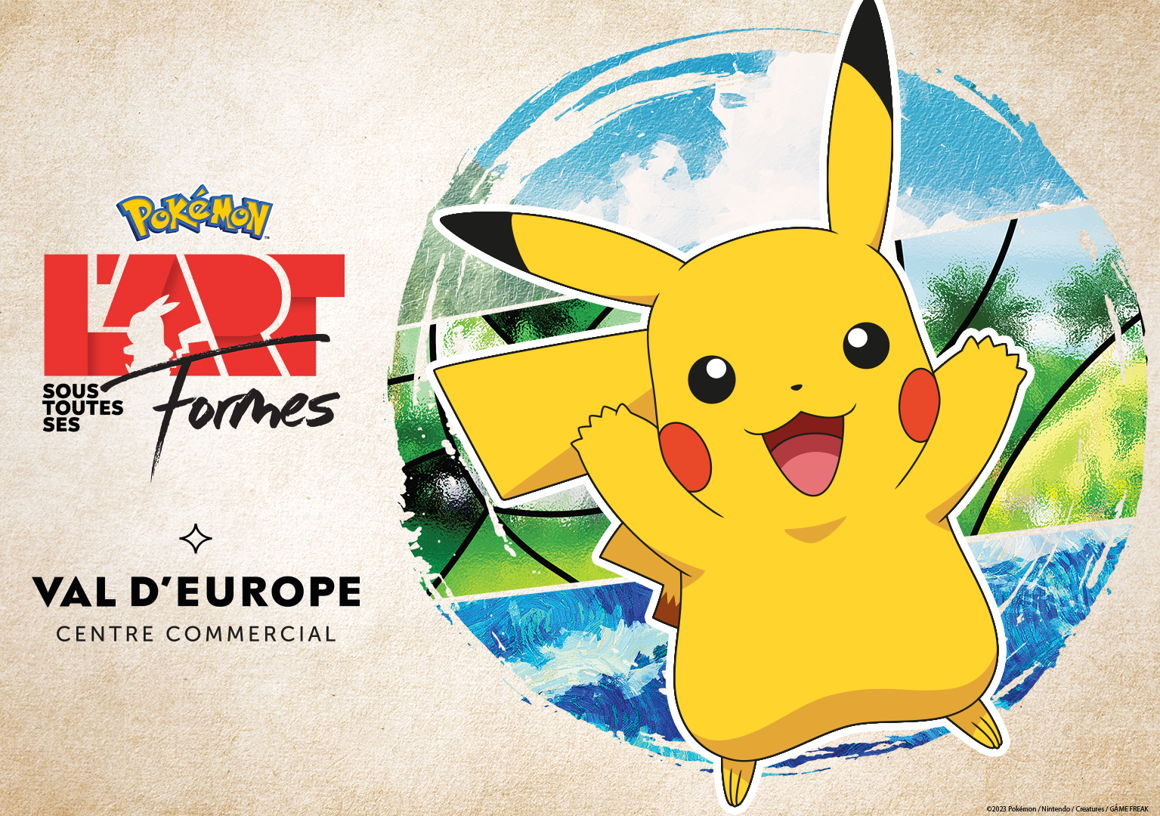 In keeping with the Pokémon Ensemble campaign, which celebrates the entertainment franchise's spirit of conviviality, Val d'Europe customers and Pokémon fans alike will be able to take part in a range of Pokémon activities
One of the challenges will be to find the 151 Pokémon from the Kanto region scattered throughout the Val d'Europe shopping center and complete the Pokédex in the activity booklet, in order to obtain a special certificate [2].
On Monday October 16 only, to mark the launch of the partnership between Val d'Europe and Pokémon, the Pokémon Bus will be parked in front of the mall from 11 a.m. to 6 p.m.
On Fridays, Saturdays and Sundays, the luckiest visitors will be able to catch a glimpse of Pikachu in the mall's Place des Étoiles, and try to take a photo with the emblematic Electrik-type Pokémon [3].
Evoli will also appear in the Star Plaza every day from October 16 to 22 (except Tuesdays and Thursdays).
Pokémon Trading Card Game trading sessions will also be held at Place des Étoiles at set times [4].
Pokémon GO fans will be able to take advantage of additional in-game activities available in the Val d'Europe area: a one-time Study to obtain free Incense, an encounter with Pikachu wearing a party hat, and three-hour Incense that conjures Pokémon from the Kanto region, among others!
"We are delighted to announce this partnership with Val d'Europe and to offer such an exceptional experience to our fans in France. We hope that parents and children alike will enjoy this artistic celebration around the 151 Pokémon from Kanto, the region where it all began over 25 years ago." – Peter Murphy, Marketing Director, The Pokémon Company International
"More than a game, it's an unprecedented experience on the theme of art, dear to Val d'Europe, that awaits our visitors. With Pokémon's graphic universe and colorful characters as a backdrop, this adventure will unite all the generations that make up our clientele. The center is set to become the playground for a thrilling treasure hunt, and to welcome magnificent Pokémon works of art" – Anne-Catherine Tournon, Director of Val d'Europe shopping center.
For further information, visit: https: //val-d-europe.klepierre.fr/evenements-actualites/evenements/pokemon-2023